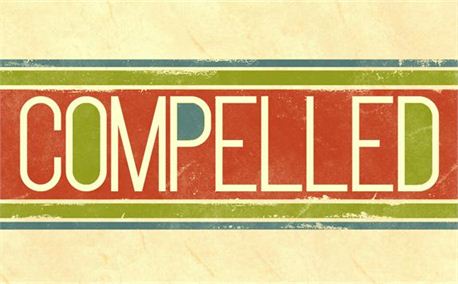 Christ's Love Compels Us To Preach
Christ's love compels us to preach the good news.  That's the theme for this post.  We have been discussing various reasons to remain motivated in our service of God.  If you're new to this blog, check out the previous posts in this series here.
Compelled to Preach
We've looked at the word "compelled" earlier in these posts.   The definition is here:
forced or driven to a particular course of action, often by an irresistible internal urge:
Get the picture?  I think the picture is clearer when you consider this verse from the experience of Ezra.  Those opposed to rebuilding the temple in Jerusalem sent to get authority to stop them.  This is what it says in Ezra 4:23:
As soon as the copy of the letter of King Artaxerxes was read to Rehum and Shimshai the secretary and their associates, they went immediately to the Jews in Jerusalem and compelled them by force to stop.
They were forced.
The Apostle Paul talks in the book of Acts about being compelled.  This is how he used this word:
"And now, compelled by the Spirit, I am going to Jerusalem, not knowing what will happen to me there."
Acts 20:22
He felt driven by the Spirit.  He didn't have a choice.
Now Paul uses this same word to describe what compelled him to preach and serve Jesus.  He says:
For Christ's love compels us, because we are convinced that One died for all, and therefore all died.  And he died for all, that those who live should no longer live for themselves but for Him who died for them and was raised again:  2:Corinthians 5:14
In other words, Christ's love compels us to preach the Word.  Paul is saying here, "I do what I do because of the love of Christ for me."
The Human Condition and the Love of Christ
The simplest way to describe the human condition is to say that we are all sinners.  At the root of our being we turn away from God rather than turn toward him.  We are twisted by what the Bible calls a fallen nature, and that nature compels us toward disobeying God, but God loved us enough to pay for those sins.
As I write these words I think of a friend of mine.  He is an alcoholic.  His alcoholism ruined his life over a period of years.  He lost a good job, his family threw him out, and he was living in his car.  One day he was driving in the snow to get to a mission to get a meal when his car died.  There he was, trudging through the snow to try to find a phone somewhere to call for help.  He got to a little village just off the expressway, but nowhere was open.  The only building showing any activity was the post office, so he went to the back door and pounded on it.
A woman came to the door and got him into the warmth and provided a phone for him.  He managed to call a friend who said he would come get him.  While he was waiting, the woman who let him in gave him a book, simply titled, "Promises of God".  She said, "It looks like you need this more than I do."
As my friend read about God's love for him, he began to feel his heart melt, and his life changed over the next months.
Christ's Love Compels Us
This motivation is powerful, but it can be short-circuited.  I grew up in a setting where I felt like I was "pretty good" as a person.  I lived a moral life, and I went to church, and I volunteered, etc.  It wasn't until I was a young adult that God showed me my sinfulness.  The reality is that I don't deserve God's love, yet he gives it.  He saved me from an eternity in hell.  What I great God!  Christ's love compels us to preach and serve!   Is it compelling you?
Here is a short reflection on the difference between feeling obligated to do the acts of the Christian life and the sense that Christ's love compels us to preach.
https://www.preachingacts.com/wp-content/uploads/2022/10/R.34e4f647526115e98ec94da0df0cc5bf.jpeg
284
458
Bruce Ballast
https://www.preachingacts.com/wp-content/uploads/2018/10/CLI.vector-Preaching-Logo-300x125.png
Bruce Ballast
2022-10-04 15:44:46
2022-10-04 15:44:46
Christ's Love Compels Us To Preach