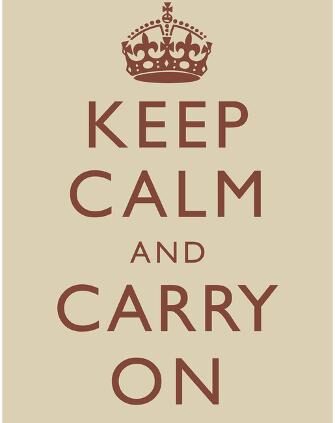 Keep Calm and Carry On
Keep calm and carry on is a slogan that someone in England created before World War II.  Here's the Wikipedia introduction to their article on the background to this widely-known, oft-quoted slogan: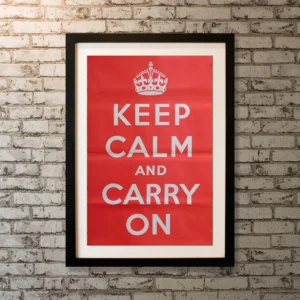 Keep Calm and Carry On was a motivational poster produced by the Government of the United Kingdom in 1939 in preparation for World War II. The poster was intended to raise the morale of the British public, threatened with widely predicted mass air attacks on major cities.[1][2] Although 2.45 million copies were printed, and the Blitz did in fact take place, the poster was only rarely publicly displayed and was little known until a copy was rediscovered in 2000 at Barter Books, a bookshop in Alnwick.[3] It has since been re-issued by a number of private companies, and has been used as the decorative theme for a range of products.[4]
We are looking at motivations to keep on preaching even though it sometimes become taxing.  We've looked at many different kinds of good and bad motivations.  Well, keep calm and carry on can be a powerful motivation.
The Apostle Paul's Commitment to Carry On
In his second letter to the church in Corinth Paul opens his heart and tells about the pressures that he faced as an apostle.  Here's 2 Corinthians 4:7-12:
7 But we have this treasure in jars of clay to show that this all-surpassing power is from God and not from us. 8 We are hard pressed on every side, but not crushed; perplexed, but not in despair; 9 persecuted, but not abandoned; struck down, but not destroyed. 10 We always carry around in our body the death of Jesus, so that the life of Jesus may also be revealed in our body. 11 For we who are alive are always being given over to death for Jesus' sake, so that his life may also be revealed in our mortal body. 12 So then, death is at work in us, but life is at work in you.
He says, "we are hard pressed on every side, but not crushed."  Stuart Briscoe, in his book, How to be a Motivated Christian" compares Paul's statement to a football quarterback who is facing a blitz by the opposing team, but they aren't able to tackle him.  Somehow, he always escapes.
Consider Damascus
This is what happened when Paul was in Damascus, and the city's leaders tried to kill him.  The Jesus followers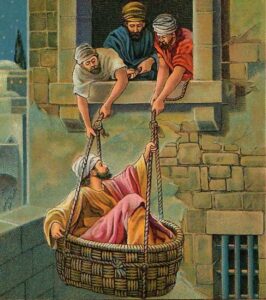 let Paul down outside the city walls with a rope.  People pressed him, but he escaped.
Last Visit to Jerusalem
A similar thing happened when Paul was back in Jerusalem and the people tried to kill him.  A Roman soldier rescued him.
Keep Calm and Carry On With the Mission
There are many other examples from Paul's ministry, but the point is this: Paul kept on going.  He kept on preaching.  Even when he was stoned and left for dead, he got up and went back to preaching in another city. In other words, he was struck down, but not destroyed.
What about you?   I have to confess that there are times in ministry that I wanted to quit.  Early in ministry I got very discouraged that the church I was serving wasn't growing the way I had envisioned while in seminary.  And so, I began to explore other options for my life.  Unfortunately, I had majored in Greek while an undergraduate at Calvin University.   I found that there weren't too many companies and ministries weren't looking for people who knew ancient Greek.  So, I had to learn how to keep calm and carry on with ministry.  I found that this is the question;  How do you do this?
How Do You Keep Calm and Carry On?
When life pressesin on you, how do you do this keeping on?  I think the answer came in a story a friend told me about running a marathon.  He got very tired, and was ready to quit. Then his friend, the one with whom he trained for this race, began saying encouraging words to him: "We're just about to the half-way point.  It's all downhill from there."  Every once in a while, his friend would say something positive to him.  He finished the race by keeping on keeping on with his running.  But readily admits that he wouldn't have made it if it hadn't been for his friend.
I'm working on a sermon on Luke 10:1-12, where we read that Jesus sent out the disciples two by two.  Have you ever wondered why?  The disciples could have covered twice the ground if they went singly.  But Jesus knew.  He knew that the two needed each other as cheerleaders.
Who are your cheerleaders when you get tired?  With whom do you share your struggles, your discouragement?  If you don't have such people in your life, begin now to pray for God to open your eyes to the people who can help you in the hard times.
Keep calm and carry on can motivate you.  Hang in there!
https://www.preachingacts.com/wp-content/uploads/2022/10/keep-calm-and-carry-on-motivational-beige-art-print-poster_a-G-8845113-0.jpg
488
335
Bruce Ballast
https://www.preachingacts.com/wp-content/uploads/2018/10/CLI.vector-Preaching-Logo-300x125.png
Bruce Ballast
2022-10-12 15:44:09
2022-10-12 15:44:09
Keep Calm And Carry On