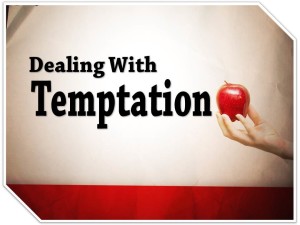 The Enemy Is The Tempter
In the last post we began looking at this name of the Enemy: he is the Tempter.  Remember that we are in this series of posts on preaching about Spiritual Warfare.  One of the places we experience the enemy is in temptation.  The Enemy is the tempter of God's people.
The Process of the Enemy's Temptation
There is a wonderfully instructive verse in the book of James that will help is see how the Tempter works on us to try to draw us away from God.   Look with me at this passage in James 1:
13 When tempted, no one should say, "God is tempting me." For God cannot be tempted by evil, nor does he tempt anyone; 14 but each person is tempted when they are dragged away by their own evil desire and enticed. 15 Then, after desire has conceived, it gives birth to sin; and sin, when it is full-grown, gives birth to death.
You will probably recognize something of your own experience in these words.  Let's look at this a little more closely.
Dragged Away by Desire
The process of temptation begins with our desires.  God has created us with needs: We have a need for food.  We have a need for housing and we need transportation.  We have a need for a means to get the money that we must have for living.  Most of us have a need for some kind of sexual fulfillment.
Because of these needs, we have desires.  There is nothing wrong with desire.  It's good.  However, when the Tempter enters the picture, the desires get twisted.  We don't just want food, we want exotic food, or too much food.  We don't just want housing, but spectacular housing.  Our transportation desires become wants for an exotic automobile or automobiles.   We turn to pornography or sex outside of marriage.
I like the way James puts it: "dragged away".   We can't think of anything else.  It sounds like addiction, doesn't it?
Our Enemy the Tempter Entices Us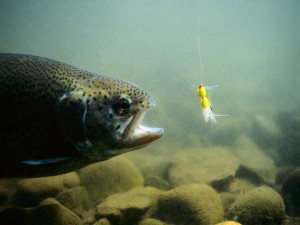 The next word here is the word, Enticed.  In other words, our desire becomes heightened.  The image that came to mind when I was thinking about this is the one next to this paragraph: a fish seeing a lure, following it, and then taking a wholehearted bite.  The idea of being enticed is having our desires heightened until we're ready to bite.  The enemy is the Temper of God's people.  He's behind the process.
Desire Conceives
James now turns his image from fishing to a birth.  Our desire takes over.  I have been privileged to have 3 children.  One of things I learned in my wife's process of pregnancy:  Once there is conception, a birth will follow unless something interferes with the process.
Death Is Born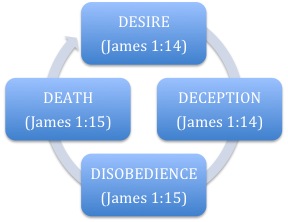 What is born, though, is not the filling of our desires, but death.  The enemy is the Tempter and death is his goal.  It may not be physical death, but more likely the death that Adam and Eve experienced when they disobeyed God and ate of the fruit of the tree of the knowledge of good and evil.  Something died in their relationship with their creator.  Instead of walking with him in the cool of the day, they hid from him.  This is what happens when we allow the Tempter into our lives.
If you'd like a good sermon outline for a message on this passage, you can find it here.
You Can Interrupt the Process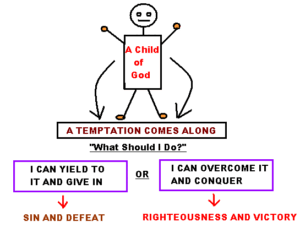 The good news is that you can interrupt the process.  Hear these words from the apostle Paul to the church in Corinth: 13 No temptation has overtaken you except what is common to mankind. And God is faithful; he will not let you be tempted  beyond what you can bear. But when you are tempted, he will also provide a way out so that you can endure it.
Know that the enemy is the Tempter of God's people.  They should know it, and begin to interrupt the process.  The interruption will require them to share the temptation with others with whom they can pray and support.  Preach it!
https://www.preachingacts.com/wp-content/uploads/2023/10/Temptation-1-300x225-1.jpg
225
300
Bruce Ballast
https://www.preachingacts.com/wp-content/uploads/2018/10/CLI.vector-Preaching-Logo-300x125.png
Bruce Ballast
2023-10-11 16:10:31
2023-10-11 16:10:31
The Enemy Is The Tempter