Sermon Introductions For Great Sermons
In the last post I made several generalizations about introductions to sermons.  In this post we will look at a few sermon introductions for great sermons of the type described earlier.
An Example of a Sermon Introduction for a Great Sermon
Jeff Strite is a pastor/preacher in the Church of Christ at Logansport.  I've enjoyed many aspects of his sermons, which are available on sermoncentral.com.  One of the things I've enjoyed most is that he introduces his messages very effectively, so I've chosen him to be the first example of sermon introductions that work to hook and inform the congregation.
This introductions is to a sermon called "Where Does God Fit?"
The "Hook"
A Sunday School teacher had her students put a manger scene in a corner of her classroom. It was the Christmas season, and her pupils were excited as they set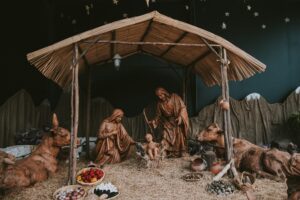 up the model barn and covered the floor with real straw and then arranged the clay figures of Mary, Joseph, the shepherds, the Wise Men, and all of the animals – all of the clay figures faced the little crib with a tiny doll represented baby Jesus.
When the scene was all set up one boy kept going back and standing in front of it totally engrossed by what he saw.But there also a puzzled expression on his face. And the teacher finally asked him, "So, what do are you thinking? Is there something you'd like to know?" The boy kept his eyes glued on the manger scene, and slowly said, "What I'd like to know is, where does God fit in?"
The Transition
As I was working on today's sermon, I started to ask myself that very question: Where DOES God fit into this story? I mean… it's fairly obvious that the baby in story is the Son of God. Or, as the Gospel of John tells us:
"In the beginning was the Word (that's Jesus), and the Word was with God, and the Word was God." John 1:1
You see, GOD was way more involved in this story than just being the baby in the manger. For that simple scene – with Mary and Joseph and the baby living in an obscure smelly barn, surrounded by shepherds and sheep and goats and calves… and all of it taking place in UNimportant little town called Bethlehem. For all that to happen (for just that little scene) A lot of planning had to take place. A lot of planning by God.
An Introduction for a Great Sermon
Two things I like about this introduction: first, the story hooks people, and secondly, it introduces the theme.  In the rest of the sermon he reviews God's promise in Genesis 3 after the Fall into sin, as well as the promise in Isaiah 7:14 that God would send a child born of a virgin.   It's an introduction for a great sermon at this season.
A Second Example
For a second example is one that comes from a sermon that I preached last year right after Advent, and I'm going to use it again this year in another church.  It qualifies, I think, among the sermon introductions for great sermons in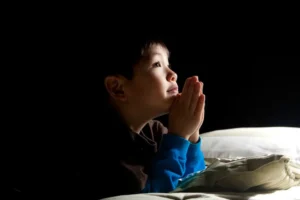 this season of the year.
Two boys were staying at their grandparents for a sleepover a short time before Christmas.  When it came time for bedtime, the boys knelt by the bed to pray, as was their custom.  One of the boys began to pray in a very loud voice: "Dear God, I want a Nintendo Switch, a new bike, and a basketball for Christmas this year." 
His brother looked at him with curiosity on his face, and asked, "What are you yelling for?  God isn't hard of hearing." 
The loud pray-er said, "I know God isn't, but grandma is."
Application of the Introduction
This little story catches peoples' attention in just a minute or less, and it can be used for a variety of kinds of sermons.  I am going to use this story for a sermon on the kinds of prayers that God answers.  But it could also be used for a sermon on God's great gift of Jesus at this time of year.  When you choose your subject, you could use this story for an introduction, and the transition would make it specific for the topic of the day.   This could be a sermon introduction for great sermons in your church.
Space in this blog limits me from sharing many more.  However, one more may be helpful.  I've attached a Youtube video of a sermon I did last year as a guest in two local churches. The sermon was on a passage that is not often used for Christmas.  I used an intriguing question for the introduction.  You can speed through the other aspects of the sermon if you like.  Enjoy!
https://www.preachingacts.com/wp-content/uploads/2021/12/6954609e61f39763570d67afe7437b81_clipartsheep-com-contact-self-introduction-clipart_1398-671.png
671
1398
Bruce Ballast
https://www.preachingacts.com/wp-content/uploads/2018/10/CLI.vector-Preaching-Logo-300x125.png
Bruce Ballast
2021-12-13 14:04:07
2021-12-13 14:05:40
Sermon Introductions For Great Sermons