Procuring Prayer For the Preacher
In this post we're going to look at the importance of procuring prayer for the preacher of the Word.  I'm picking up on a theme that I touched on earlier in this blog.
I like to listen to books as I drive.  Right now I'm listening to a book about the Revolutionary War here in America back in the late 18th century.  One of the things that struck me is that in battles back then each side had sharpshooters who were charged with one very important task: kill the officers on the other side.  You see, if they could get the leaders, they could throw the other forces into confusion.
That got me thinking about preachers.  We lead people into the Word and presence of God.  What if we are being targeted by the enemy?  Since I think this is likely true, shouldn't we think about people praying for us?  I believe that procuring prayer for the preacher is an essential task of those trusted with presenting God's Word to God's people.
Paul's Requests of Prayer for People
The apostle Paul certainly wasn't shy about asking for prayer for himself.  He knew that procuring prayer for the preacher is essential.  Consider the following passages.
The Church In Rome
Romans 15:30-32:
30 I urge you, brothers and sisters, by our Lord Jesus Christ and by the love of the Spirit, to join me in my

struggle by praying to God for me. 31 Pray that I may be kept safe from the unbelievers in Judea and that the contribution I take to Jerusalem may be favorably received by the Lord's people there, 32 so that I may come to you with joy, by God's will, and in your company be refreshed.
Paul is in a struggle.  He's involved in ministry, and knows that he is going to face criticism when he goes back to Jerusalem.  So, he asks people to pray for him.  Think about the times that you face a challenging task. How many people are praying for you?
Paul Procures Prayers From The Church in Corinth
Consider I Corinthians 1:10-11:
10 He has delivered us from such a deadly peril, and he will deliver us again. On him we have set our hope that he will continue to deliver us, 11 as you help us by your prayers. Then many will give thanks on our behalf for the gracious favor granted us in answer to the prayers of many.
There was a time that Paul faced danger.  He refers to a time when he faced great pressure, and even thought he was going to die.  How did God deliver him?  Through the prayers of the people in Corinth.  They, apparently, were praying for him to be delivered from whatever danger he might face.  We aren't told specifically what Paul was facing, but it was a time of danger.
I wonder sometimes what kinds of danger I face.  My struggles tend to be more personally challenging rather than some enemy attacking me.  Yet, that may not be true for some of you.  What a great thing to have an army of pray-ers putting a hedge of protection around you.
Paul Procures Prayer From The Church In Colossa
Consider Colossians 4:2-4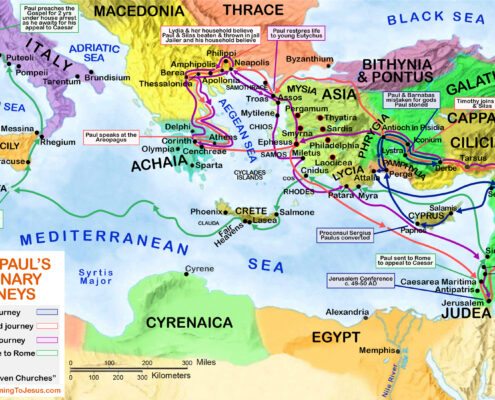 2 Devote yourselves to prayer, being watchful and thankful. 3 And pray for us, too, that God may open a door for our message, so that we may proclaim the mystery of Christ, for which I am in chains. 4 Pray that I may proclaim it clearly, as I should.
Paul requests 2 important things here: 1) for an open door for ministry; 2) for increased skill in preaching boldly and clearly.  Wouldn't you love it to have people praying these kinds of prayers for you?
Stay Tuned
These are the first three of 8 passages where Paul asks people to pray for him.  We'll continue more of them  in the next post.  For now, here's a great prayer for preachers at this link.
Here's another view.
https://www.preachingacts.com/wp-content/uploads/2023/06/prayersforpreachers2.jpeg
1080
1920
Bruce Ballast
https://www.preachingacts.com/wp-content/uploads/2018/10/CLI.vector-Preaching-Logo-300x125.png
Bruce Ballast
2023-06-06 12:52:51
2023-06-06 12:54:43
Procuring Prayer For the Preacher