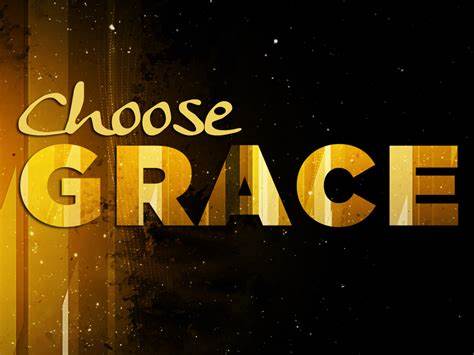 People of Grace
We've been discussing in this blog how to preach to the culture around us.  In the last post, I reflected on the culture of the United States as an example of how the church can get away from its central message of grace, and instead can equate politics with our faith.  In this post, let's look at the reality that people of grace are the only ones who can preach grace effectively.
What does it mean to be people of grace?
My mother was a person of grace.  One of my powerful recollections from early childhood is the Sunday that a young woman stood in our church to confess sin.  I knew that something important was going on that morning, but I didn't understand fully what was happening at the time.  It was only later that I learned that she was pregnant, and was unmarried.  A form was read that allowed her to say "Yes" to the charge of breaking the 7th commandment against adultery.
After the worship service, while people were having their coffee and cookies, my mother, with me in tow, went over to the young woman.  The "sinner" was standing alone, apparently ignored by people in the congregation.  My mother took her in a huge hug, and said to her, "It looks like you and I are the only two sinners here."  Mom then encouraged her to see God's love as powerful and all-forgiving.
That's the kind of thing people of grace do.
People of grace understand their own sinfulness, rejoice in God's grace, and are, therefore, ready to extend grace to others.
Why aren't we more grace-full?
I've often wondered why we aren't more full of grace as we approach our culture.  Why do people outside the church see us as hypocrites and judgmental, as David Kinnaman has pointed out in his book, UnChristian.  Why don't people rejoice in our grace?
We are seen as un-graceful, I believe, because we have become Pharisees.  One of the most impactful books in my life is this one: Twelve Steps for the Recovering Pharisee (like me),  by John Fisher.  A friend gave me this book when I was dealing with sin in my own life.  Fisher points out in the book that when we've been Christians for a long time, we are likely to develop an idea of what is a "good" life, and what it means to be "righteous".  In fact, we tend to create a moral code that we can keep.  Then we look down on anyone who doesn't live up to that moral code.  That, he says, is the definition of a Pharisee.
The result of becoming more like the Pharisees is that we talk more about righteousness than we do about grace.  And therefore, we are hypocrites.
How do we become people of grace?
The only way that we can become more full of grace, not only in our speech, but in our attitudes, is to get in touch with our own sinfulness again.  How do we do that?   The church that I grew up in tried to do that by reading the 10 commandments every Sunday in our services.  These commands, the pastor said, are our "teacher of sin," as well as our "guide for gratitude".  However, instead of being aware of my own sinfulness as a result of that practice, I felt pretty self-righteous.  After all, I hadn't killed anyone.  I didn't steal.  Adultery? Not me!  And I tried not to lie too much.
People of grace ask God regularly to reveal their own sinfulness to themselves.  They pray the prayer of David in Psalm 139:
Search me, God, and know my heart; test me and know my anxious thoughts.  See if there is any offensive way in me, and lead me in the way everlasting. (vss. 23, 24)
When we understand our own sinfulness, and the wonder that God extends grace to us, we are able to extend grace to other sinners.
This, I believe, is the way to preach Christ to our culture.  We present Him as the the giver of grace to sinners–like us.
https://www.preachingacts.com/wp-content/uploads/2019/10/th.jpeg
355
474
Bruce Ballast
https://www.preachingacts.com/wp-content/uploads/2018/10/CLI.vector-Preaching-Logo-300x125.png
Bruce Ballast
2019-10-16 11:59:31
2019-10-16 11:59:31
People of Grace