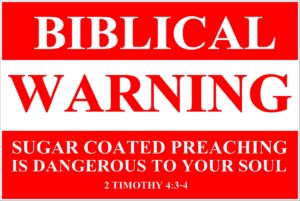 Doing Admonition Well
In this post I want to turn to something that is very important when you are thinking about the kinds of sermons that you are going to preach.  In the next several posts were going to explore different subject kinds of sermons that you may feel called to preach to your congregation.  Today we're going to explore the subject of admonition.  Doing admonition well in your preaching has the power to bring new life to you or too your congregation.
Admonition Illustrated
I had been in ministry for about 3 years, and things weren't going as I had planned or pictured.  The small church that I was pastoring remained small, and seemed to be constantly mired in personal and inter-personal difficulties.  At that time, I heard about a conference sponsored by my denomination.  Over a three-day period I would be equipped to help people in my church discover their spiritual gifts.  The result would be growth, both spiritual and numerical, in the congregation.  I signed up, with hopes high.
There were several surprises as we went through the days of training.  First of all, I was the youngest person there, and also had the least experience in ministry.  But the second surprise was the greatest of all.  The people around me, those who had more years in ministry, were a cynical lot, and, as a result, told negative story after negative story about the church.
Maybe the third surprise was that I joined right in, with all the negativity that had built up in three years of ministry.
On the last day of the conference, one of the leaders pulled me into a stairwell during a break, and said words that changed my life.  He said, "Bruce, you've got a lot of potential in ministry.  But if you hang out with negative people, you'll never reach your potential.  I see you going along with this crowd.  Find positive people to surround yourself with, and God will be able to use you."
This is admonition, calling someone out on behavior that is negative, and calling them to greater Christlikeness.  He had learned something about doing admonition well in his own life.
Admonition Defined
Doing admonition well requires knowing what it is to admonish.  The Greek word in the New Testament that is translated as Admonition is noutheteō, and it is translated as "warn" or "admonish".
This word "noutheteo" comes from two Greek words, "nous" which means "mind or understanding" and "tithemi" which means "to put or place."  A modern translation might be: "straighten them out in their thinking".
There are several study resources on the internet that define this word more fully.  Here's one of them.
Here are the 8 times this word is used in the New Testament:
Acts 20:31: "by the space of three years I ceased not to warn every one night and"
Romans 15:14: "knowledge, able also to admonish one another."
1 Corinthians 4:14: "my beloved sons I warn"
Colossians 1:28: "Whom we preach, warning every man, and teaching"
Colossians 3:16: "wisdom; teaching and admonishing one another in psalms and hymns"
1 Thessalonians 5:12: "in the Lord, and admonish you;"
1 Thessalonians 5:14: "we exhort you, brethren, warn them that are unruly, comfort the feebleminded,"
2 Thessalonians 3:15: "as an enemy, but admonish him as a brother."
Do It Well
I think that the most effective way of doing admonish well is likely person to person.  But there are times when it is very appropriate to do this in a public setting with a sermon.  There are several instances where you might admonish a church: if wealth and comfort are getting in the way of service; if they have lost "their first love", as Christ said to the Ephesian Church in his message to the Ephesians; if the church has lost its passion to see unbelievers come to faith.  Here's a link to a sermon on the things that Paul admonished the Ephesian Elders about when he was leaving them for the last time.
Some Warnings
As I said in a post quite awhile ago, kind words work better than challenging or condemning ones.   You can use this kind of exhortation too often.  People, especially younger generation believers, will start leaving your church if you do that, because they don't want to get "beat up" every week.
A second warning would be this: make sure you are listening to the Holy Spirit, and not just to your own disappointments with your church.  Sometimes we can replace Spirit inspiration with our own agendas.
And a third warning is that doing admonition well means that you are doing it out of love, not just out of a desire to hit people with their wrongs.
So, in your planning of sermons over a long period of time, do include some admonition sermons that will challenge your people to greater love, deeper growth, and broader service.
https://www.preachingacts.com/wp-content/uploads/2019/05/Warning-sugar-coated-preaching-is-dangerous-for-your-soul-300x201.jpg
201
300
Bruce Ballast
https://www.preachingacts.com/wp-content/uploads/2018/10/CLI.vector-Preaching-Logo-300x125.png
Bruce Ballast
2019-05-25 22:28:45
2019-05-25 22:28:45
Doing Admonition Well